Contact Form For: brucecline@earthlink.net
We'd love to hear from you. Contact us by filling out the form below. Please type in your name and e-mail address to be sure your feedback will be sent.
Tradition Country Music Anyone?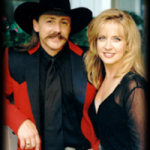 Howdy Country Music Fans!  
We are looking forward to bringing y'all some good
TRADITIONAL C O U N T R Y MUSIC!!
Check out "High Dollar Night".
It topped the charts at number 16 on the European independent charts a few years back.  Hello Europe, we are back!!
"Clear Texas Sky" just may be our next release
Please let us know what you think!
Stay in touch, and watch for the release of our album
with 13 songs, "Bruce and Kristi Cline".
The release of "Bruce and Kristi Cline" will have our  #1 smash hit for 4 weeks in a row in Europe,
"We Fell in Love Anyway".
* If you click the link above our picture you can hear a little COUNTRY music during sound check at the Ryman Auditorium.  What an honor, not taken for granted to sing, "He Stopped Loving Her Today" during a part of our show that night.